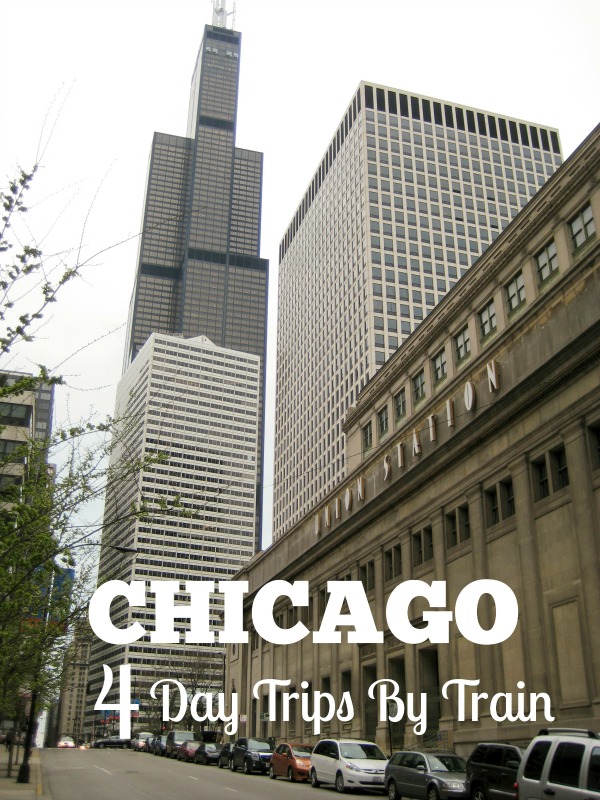 Along the many lines of Chicago's local train routes sit small towns that grew around each station. A lot of them have kept their small town charm, but even the towns that have grown into cities still have a small town vibe and make great day trips by train that you can explore. Metra lines cover the far north, far south and western suburbs of Chicago, with everything from rural country towns to bustling small cities with enough to fill a couple days worth of fun.
4 Easy Day Trips By Train From Chicago
If you are looking for a fun way to spend a day away from Chicago, any one of theses makes an easy day trip by train.
Oak Park
The small town of Oak Park sits along the Union Pacific West Line, just a short twenty minute train ride from Chicago's Ogilvie Station. Anyone interested in the history of Chicago, and its landmark homes will be eager to know that Oak Park is home to Hemingways' Birthplace Home, the Hemingway Museum, the Frank Lloyd Wright Home and Studio and several homes that he designed and built. The homes built by Frank Lloyd Wright are only open to the public once or twice a year, but there are walking tour maps made available so that you can easily find and view them from the outside.
Glencoe and Skokie
To spend the day surrounded by the natural beauty that can be found in Chicago, head north on the Metra Union Pacific North Line which has a stop very near the Chicago Botanic Gardens. There are over twenty different types of gardens spread out over more than three hundred acres, and every weekend is filled with a different type of activity from wine tastings to kite festivals. If you want to finish off the day with something more active, walk over to the Skokie Lagoons for the chance to paddle board, kayak or canoe.
Geneva and St. Charles
Geneva and St. Charles are two small towns along the Fox River that still have their boom city charm. Geneva sits along the Union Pacific West line, about forty five minutes from the city and just over the river. From the station you can explore the downtown part of the city which is filled with small boutiques, cafes and art galleries. If you still want to do more shopping, grab a taxi and head a couple miles north to St. Charles, which is also filled with small shops and antique markets. The town of St. Charles also boasts a little early Illinois history, with interesting architectural gems and a re-envisioned public park space complete with paddlewheel riverboats.
Aurora
As a city, Aurora has changed a lot, but each change brings something new and different for visitors to try. Recently, the city of Aurora has built a music and festival venue along the river, right across the street from the train station. Farmer's markets take place in the lot during the day, so a market, festival filled day with a meal at Walter Payton's Roundhouse is enough to fill a day. If you want to stroll through the downtown area, there is a lot of historical architecture to view that you won't see anywhere else.
Where will you go?