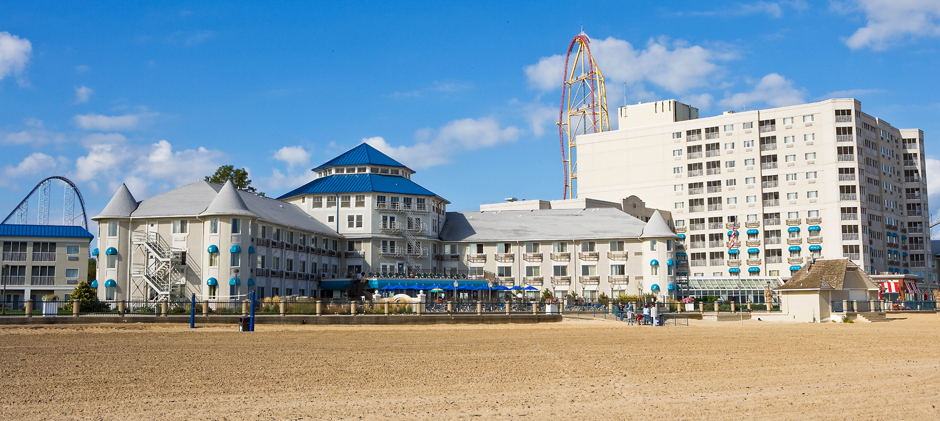 Wonderful family memories can be made with short weekend family trips to places like Cedar Point.  I recently attended a blogging conference at Cedar Point and we stayed at the Hotel located right on the property called Hotel Breakers. This hotel is in much need of a renovation and fresh updates, which are coming for the 2015 season. The location is perfect and while our room was very clean, it was quite outdated.
Since we were traveling with five family members total, we booked the Hotel Breakers suite, which includes two queen beds, a sofabed, and dorm size refrigerator, coffee maker, microwave, and screened balcony. Having a refrigerator and microwave in the room helped us to save money because we were able to bring some of our own snacks, breakfast items, and beverages.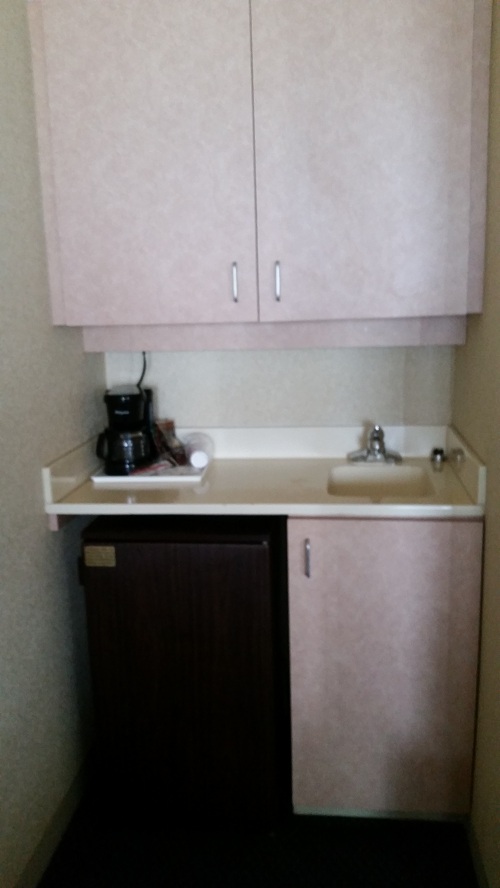 Before you leave for your trip, the hotel will send you a confirmation email with a bar code on it so that you don't have to pay for parking when you enter the park. Don't leave this at home or else you will have to pay upfront and then wait for the refund. Parking is included with your hotel stay.
With a Cedar Point hotel stay, you always get early access to the park. This is HUGE if you want to ride the more popular rides as you will be some of the very first people in line and you probably won't have to wait very long. My kids took advantage of this every morning during our stay. From Hotel Breakers, there are two ways to enter access the park. It is about a 5-7 minute walk to either of the entrances, which makes it extremely convenient to stay at this hotel.
It is nice to be so close to the park so that you can utilize your ticket to the fullest each day. You can come back to the room and rest, relax, and eat your own snacks and lunch. We would come back to the park to chill during the middle of the day when the park seemed to be a little busier and then saved up our energy to stay out until the park closed, when lines were much smaller.
Trust me, the accommodations are not up to par with even budget type hotels that we have stayed at in the past. Cedar Point is very well aware of this and that is why they have been working on renovating the rooms! They even had brochures in the room indicating that the changes were coming.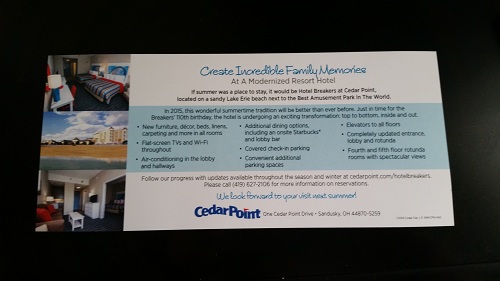 The view was fantastic! Our room had a lake side view so we could see the beautiful water and the beach.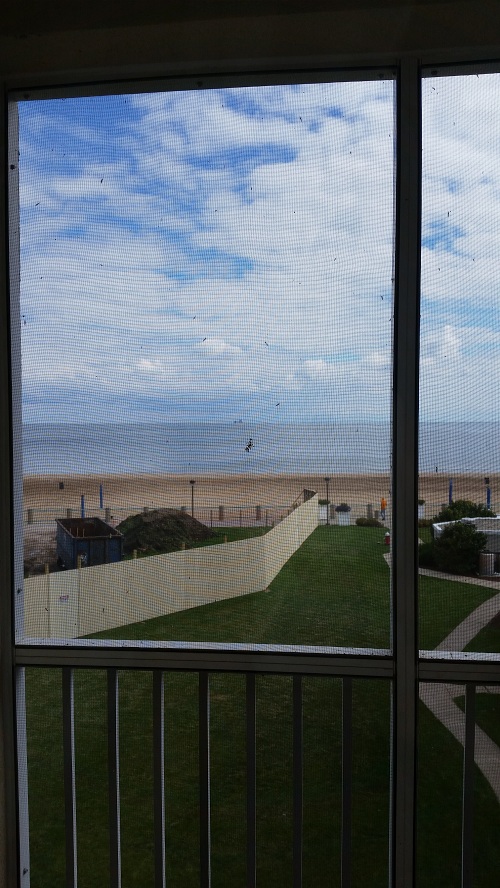 Let'stalk about the bad….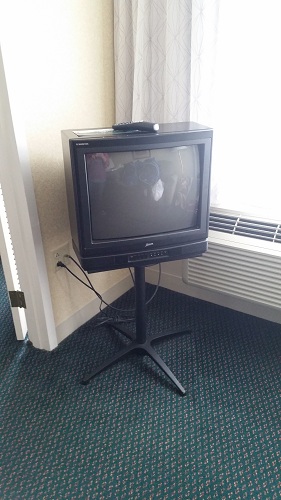 My kids looked at this television in puzzlement. What is this thing they asked? Is this like the televisions from before you were born mom? Haha, not quite kids but the television are outdated, which honestly wasn't a huge deal. Yes, it would have been nice to relax in the evening with a bigger screen and better picture but we weren't spending much time in the room anyway with all the activities to do within the park.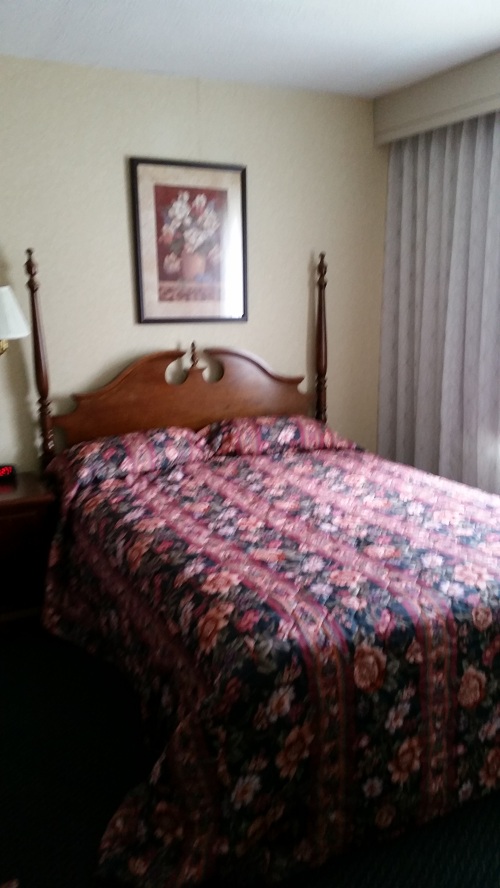 Drab decor. This is totally 90s, right? The beds were also very uncomfortable. I'm guessing the mattresses haven't been updated in a long time. However, I was so worn out from all the walking at the park that I melted into the bed each night regardless of its comfort.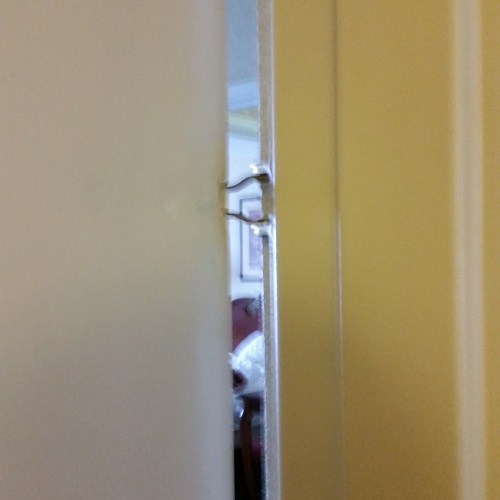 You can't really tell from this picture but I got locked out of my room when the door stop engaged when I slammed the door. I had to slam the door because the door wouldn't quite shut without slamming. The house cleaning staff was in my hallway at the time and was very helpful. They contacted the maintenance guys and they had me fixed up in just about 10 minutes.
On another note, the house cleaning staff was fantastic. My daughter left her charger in the room after we checked out and she went back to the room and it was still there!
Overall, the hotel was clean, the staff was responsive and friendly, and the location was perfect. I can't wait to see the newly renovated rooms next year. I would highly recommend this as a family friendly location that will enhance your trip to Cedar Point.
Read more posts in this Cedar Point series.
Disclosure: I paid to attend Bloggy Conference. In return, I received complimentary tickets to Cedar Point. There was no monetary compensation or posts required in exchange for this package.