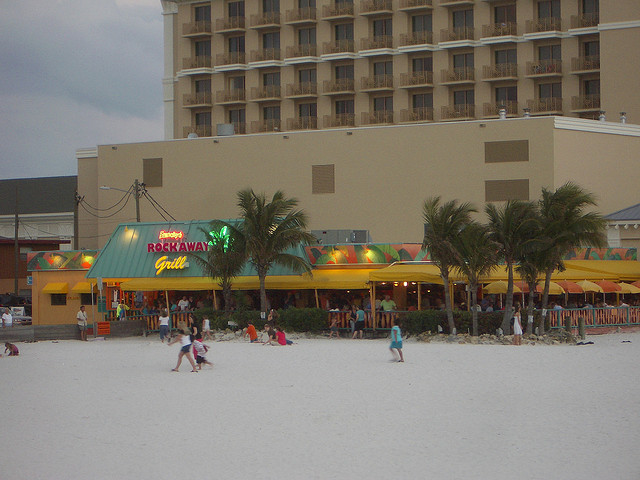 Over the years, I have visited Clearwater Beach, Florida numerous times. Too many times to count, actually. It is one of our favorite areas in Florida to visit because of the perfect beach, the variety of restaurants, and of course, our family that lives nearby. Here are some of our favorite places to eat while visiting Clearwater Beach.
Best Places to Eat in Clearwater Beach, Florida
Frenchy's Rock Away Grill: We love all the Frenchy's restaurants on Clearwater and each has a slightly different menu and atmosphere but the Rock Away Grill is probably my favorite. Their self titled "Floribbean" style menu has something for anyone in your group. Try the Caribbean Grouper Sandwich which isn't available at every Frenchy's location but it is definitely a family favorite. Any of the Grouper sandwiches and the She-Crab soup are popular items in our household.There is live music daily and it is a great place to watch the sunset on the beach. It is a casual environment so you will feel comfortable coming straight off the beach in a cover-up and flip flops for lunch or enjoying a casual dinner in the evening.
Cooter's: There are many things I love about Cooters but my boys will tell you that they love the All-You-Can-Eat Snow Crab night (Monday and Tuesday) the best. One of the teenage boys in our group claims he was asked to leave because he had exceeded his limit. 😉 All the kid's meals come in a take home frisbee, which is a great activity for the beach. For an appetizer try the "Skinny Rings", which are deep fried, beer battered thinly sliced onions with a special yummy sauce. For a side, try the beans and rice for something a little different.
Frenchy's Saltwater Cafe: Right next door to Cooter's is another Frenchy's restaurant. The open air inside of the restaurant allows you protection from the elements with the feeling that you are still outside. Try the Cajun Grouper, which isn't available at the During dinner time, it is a crowded place with little waiting area so plan ahead and visit this restaurant at the optimal time.
Angelo's Pizza: This is a fantastic place to get carryout pizza. There is not any seating inside but they do have a little outdoor area for seating. The authentic, thin sliced pizza is absolutely delicious.  Small, hidden gem with friendly employees. One of the boys in group received a small discount because he was able to sing a Johnny Cash song. We also really love the location since it is just about a half block from where we normally stay.
Palm Pavilion Beachside Bar & Grille: After an almost 10 year boycott of this restaurant due to a bad experience on the outdoor patio, our group talked me into trying this restaurant last year. Yes, I had a 10 year personal boycott due to an experience that had me sitting at a table with just one of my young children because of a policy to not put tables together outside. Two little 4 top plastic tables were the issue. Most likely, I was upset because of how I felt we were treated. Anyway, I'm glad my friends decided to force me to lift my personal ban. The location is perfectly situation on the beach with a great view to watch the sunset. They also have live music with delicious food options. Oh, and the Happy Hour is weekdays (M-F) 4 – 7 p.m., which is something you will want to take advantage.
Post Corner Pizza and Restaurant: This family owned restaurant offers a variety of Greek eats as well as pizza offerings. I suggest a large salad and pizza. (Maybe pizza a couple of nights!)
Great photo spot in front of Post Corner: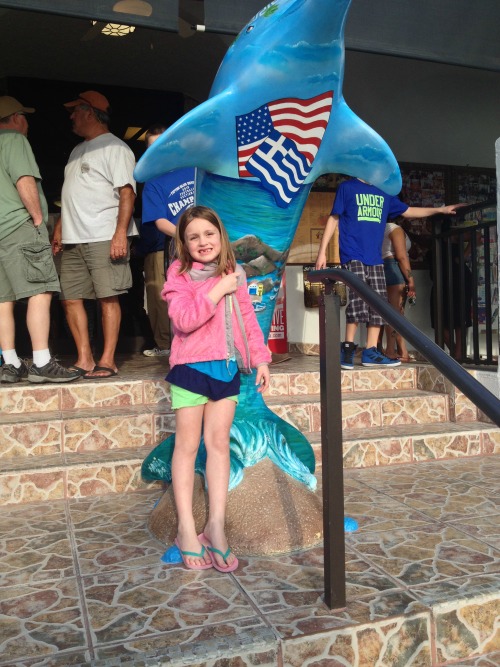 Clear Sky Beachside Cafe: We have found this to be a great breakfast spot. We have been told it is a great for other meals too! The breakfast menu has a wide variety of omelet, french toast, and other specialty items such as breakfast skillets, quiches, crepes, and burritos.
Crabby Bills: I will say this is probably my favorite restaurant for a large group as they have space upstairs to accommodate large groups. They specialize in seafood. Try the Florida style crab cakes.
The Brown Boxer: This restaurant located right in the heart of the Clearwater Beach "strip" almost didn't make the list. However, the food was so delicious that I will overlook the hopefully one time occurrence of bad service.  It is located in the old Outback Steakhouse location with a large bar area. Our group enjoyed the Cuban sandwich, nachos, and a couple varieties of quesadillas.
What are your favorite restaurants on Clearwater Beach? We plan on trying some places next time we are in town.
Frenchy's Photo Credit: Kevin T via Flickr